If you're applying to Western Ivey HBA (AEO), or you're simply interested in learning more about the program, this guide is for you.
As a potential applicant, you're probably overwhelmed by the amount of information out there.
Luckily, we're here to help.
Here, we'll break down everything you need to know about Western Ivey, including the application, deadlines, acceptance rate, program info, common questions, and much more—all in one place.
By the way, if you're serious about getting into Western Ivey, our 1-on-1 Youth Coaching services will help you become a stronger applicant, student, and leader. We work on things like improving real-world skills, building self-awareness, and achieving big goals, so you can maximize your post-secondary potential.
Looking for specific guidance on the Ivey Supplementary Application? Visit our Western Ivey Application Prep Guide for a full breakdown of the Supplementary Essays, including essay question templates, examples, and more.
Before divine in, check out this video from one of our Youth Coaches about the Western Ivey HBA program:
Table of Contents:
Admissions Process

: Acceptance rate; Admission requirements; Acceptance Dates; and More.

Application: Supplementary essay questions; References; Application deadline; and More.
About the Program: AEO vs. HBA; Courses; Ranking; Co-op; Majors; Tuition; and More.
Common Questions from Students: Is Ivey hard?; Is it worth it?; Is Ivey hard to get into?; and More.
Program Comparisons: Ivey vs. Queen's; Ivey vs. Rotman; Ivey vs. McGill; and More.
Western Ivey HBA Requirements & Admissions Process
The Ivey HBA AEO Admissions Process is one of the most rigorous and thorough in Canada — and for good reason!
The HBA Program is one of the most prestigious business programs in the country, meaning the admissions committee wants only the brightest and best students entering their program. Hence the lengthy application process.
In this section, we'll go through the Western Ivey admissions process and go over the requirements, so you can make sure you have all the necessary information before applying.
REMEMBER: When you're applying to Ivey, don't forget that Ivey AEO is a status, NOT a program. This means that you must apply to any program at Western University, like Engineering, Arts & Humanities, Social Science, etc. Then, you must state your intention to apply to Ivey AEO Status on your OUAC application.
Number of Applications to Western Ivey HBA AEO
Ivey receives around 7,000-7,500 applications for the AEO path each year, making the program extremely competitive and sought-after.
This is really impressive, considering many students these days are turning towards an education and career in a STEM field.
Because of such an increase in demand and the number of applications they received, Ivey announced something really exciting in August 2022 (keep reading below!).
Western Ivey HBA AEO Enrolment / Class Size
Before the 2023/2024 academic year, the Ivey HBA1 cohort had around 600 of the best students from Canada and around the world.
THIS JUST IN: Because of such a high demand from students wanting to attend Ivey, Western recently announced that it will see an additional 150 students enrolled in an undergrad program at its business school starting this year. This means that the incoming class in September 2023 is 765 students — an increase of nearly 25%!
In terms of class split, Ivey states that around 75% of the HBA class are former AEO students who maintained their status, while the remaining 25% are from Western and other universities and didn't discover their interest in business until their first 2 years of study.
Sections at Ivey are the 8 groups of 70 students that will share the same schedule and professors during their HBA1 year.
Over the last 10 years, Ivey has expanded the number of "sections" from 2 to 4, then 4 to 6, and finally 6 to 8. With the increase in enrollment for the 2023/2024 academic year, there are an additional 2 sections added.
Western Ivey HBA Acceptance Rate
Ivey is extremely secretive about the number of applications they receive annually, but after speaking with the head of HBA Recruiting, we can safely estimate that received somewhere around 7,500 last year.
Before this year's HBA1 student acceptance increase, people typically calculate an acceptance rate of 8.5%, with 600-700 students with AEO status annually. However, that's INCORRECT.
This calculation doesn't include students who do NOT meet the cutoff.
Approximately 35% of students do not meet the 90% grade cut-off that is required for your application to be reviewed.
Also, there are many students who reject their offers of AEO status.
Ivey does not report how many offers they give out or how many are rejected. However, if we look at a similar program such as Queen's Commerce, we can assume Ivey will give out around 1000 AEO offers, with roughly 30-40% rejecting them and 60-70% accepting them to get to the 600-700 first-year AEOs.
Therefore, the actual AEO acceptance rate is the total number of offers divided by the total number of applicants above the cutoff. This works out to be a real acceptance rate of around 21%.
This means that if you meet the cut-off you have a 21% chance of admission, on average.
See the breakdown below:
AND with the increase to the HBA1 class size being 765 students, this acceptance rate increases EVEN MORE.
If you want to learn how to differentiate yourself and increase your chances of getting admitted into the program, check out our Youth Coaching services. By working with a coach, you will improve key skills like communication and leadership, will also building self-awareness and setting/achieving big goals.
Western Ivey HBA AEO Admission Average
To have a "competitive" AEO application, your average should be 93%+ and you must have solid extracurricular experience, including experiences that demonstrate leadership, community involvement, and work experience.
Ivey weighs grades and extracurriculars/leadership contribution on a 50/50 basis, meaning that both are equally important when deciding to let you into the program or not.
If you have a 99% average but no extracurricular experience, you will not get an AEO offer. Plain and simple.
IMPORTANT: Your admission average is calculated by Western central admissions (not Ivey), and they calculate several different averages throughout the admissions process (e.g. top 6 courses for Ontario students). Western will not use your math grade as a part of your admission average for AEO unless it's one of your top grades.
Western Ivey Admissions Requirements
If you currently attend an Ontario high school, Ivey's AEO status requires the following courses before you can be officially admitted:
Mandatory Course
Grade 12 English (ENG4U)
One 4U math course, such as:
Grade 12 Advanced Functions (MHF4)
Grade 12 Calculus and Vectors (MCV4U)
Grade 12 Mathematics of Data Management (MDM4U)
Four additional 4U or 4M courses
As mentioned above, Ivey requires a 93%+ average in your best Grade 12 courses (including English), as well as the completion of a mathematics course for university-bound students and demonstrated leadership through extracurriculars.
Remember that your AEO offer is technically only a conditional offer to the HBA program, meaning you are subject to you completing some other requirements during your first two years of undergraduate studies.
However, these progression requirements are only enacted once you actually start as a student at Western. So if you do get in, I would highly suggest the Post Package to assist in guiding you through the sometimes complicated progression requirements.
For now, just worry about the high school requirements!
Western Ivey HBA Acceptance Dates
Acceptances for AEO occur in "waves" with hundreds of students at a time getting accepted on a given date.
Ivey's social media accounts have sometimes posted when they were going to give out a wave of acceptances, but this is far from guaranteed.
Also, be careful about reading forums such as Reddit when looking for when acceptances will be given out as many people will spread misinformation with no proof in their statements.
Since your admission to Western is a completely separate admission process, there is a possibility that you get accepted to Western before you hear about your AEO application.
This has actually happened to a few of our students, where they get early admission to the BMOS program at Western in early January/February, but don't get the AEO acceptance until May of the same year.
Just be patient — it'll all work out. 🙂
How to Apply to Western Ivey HBA AEO
When you're applying to Ivey, the most important thing to remember is that Ivey AEO is a status, NOT a program.
This means that you must apply to any program at Western University, like Engineering, Arts & Humanities, Social Science, etc. Then, you must state your intention to apply to Ivey AEO Status on your OUAC application.
Here's what this page looks like on your OUAC application:
Here, you simply click which program at Western you're applying to.
If they intend on going to Ivey, the most common program that applicants apply to is BMOS (Business Management & Organizational Studies), as highlighted in the image above.
Once you've selected which program you're applying to, click "Yes" on the button that says "Ivey Advanced Entry Opportunity".
It looks like this:
You will also have to complete a separate application for AEO Status which can be found at apply.ivey.ca.
To get started on your AEO application you will create a username and password on the link mentioned above.
It is important to note that achieving AEO status is an entirely separate decision and notification process from your admission to Western, meaning you can still gain admission to your program of choice at Western and not get AEO.
REMEMBER: If you don't get AEO status, but still want to go to Western you can still be one of the roughly ~200 students who get into the HBA Program without AEO status! This requires a low- to mid-80% average in your first two years of university, coupled with strong extracurriculars.
If you have a tough time adjusting to the first year of university and do extremely poorly, don't fret. You can apply to Ivey after your THIRD year of university, using your much-improved averages from second and third year!
If you have questions about any aspect of the application process, AEO status, or anything else, don't hesitate to connect with a coach for help.
Western Ivey HBA Application
This section of the guide covers the most common group of questions we receive about the Western Ivey HBA AEO application.
If you have questions about the application, want some strategies and tips for writing, or need support with anything else, connect with a coach today. We have a 90% success rate with our previous students getting admitted and over 10 years of admissions consulting experience.
Western Ivey Supplementary Application
This section will provide an overview of the Ivey HBA AEO Application with each section explained further in-depth.
The Western Ivey HBA AEO Supplementary Application has 12 sections, with some being optional and a few being absolutely mandatory.
If you, or someone you know have questions about how to improve your essay writing skills, what the best activities to write about are, or anything else to maximize your candidacy, connect with a coach now. Many of our coaches are HBA alumni, and they can provide you with some insights about your application that you might have overlooked.
Here are the main components of the Western Ivey AEO Application:
Personal Information
Ivey Alumni Reference (Optional)
Special Circumstances Essay (Optional)
Education
Grade 12 Math Prerequisite
Awards (Optional)
Activities
Additional Activities (Optional)
Work Experience (Optional)
International Experience (Optional)
Languages
The Western Ivey AEO application deadline for students applying from secondary school is January 12, 2023 at 4pm EST.
For complete breakdowns and examples for each of these components of the Western Ivey HBA application, as well as well as templates to help you write an essay that showcases your communication, problem solving, and critical thinking skills, read our Western Ivey Application Prep Guide.
Application Prep
Western Ivey HBA: Supplementary Application Essay Examples & Templates 2022/2023
If you are looking for guidance on the Western Ivey supplementary essays, as well as Ivey HBA essay examples and… Read more
Western Ivey Application: (1) Personal Information
The Personal Information section is very straightforward. The applicant is required to put their first, last, and preferred name, and an email they can be contacted at.
Ivey is all about professionalism, so make sure any email you use when applying is also professional.
Since many of high school emails get deactivated once the student has graduated, Ivey will NOT allow you to use one within your application. If you attempt to use a high school email address you will get the following email from Ivey:
Western Ivey Application: (2) Ivey Alumni Reference (Optional)
The Ivey Alumni Reference section is a brief one where an applicant can state any references they have to the Ivey Network. For example, if your mother, father, sibling, or any other family member went to Ivey, this is where you can write their name, relation to you, and year of graduation.
Is the age-old saying "it's all about who you know" true in this scenario?
Does knowing someone who went to Ivey provide a boost to your application?
By working 1-on-1 with a coach you will get the answers to these questions, as well as strategies for creating a stand-out supplementary application.
Western Ivey Application: (3) Special Circumstances Essay (Optional)
The special circumstances section is an optional one that allows applicants to state any extraordinary circumstances that may have had an effect on their overall application.
An example of this would be a parent passing away during the school year, which would likely have a major effect on an applicant's mental health and ability to perform well or be involved at their school. If the circumstance did not have an extreme effect on the student's application it should not be included in this section.
Is your "Special Circumstance" special enough? Will Ivey be more or less lenient after hearing your circumstances?
Through our 1-on-1 Youth Coaching Services, we use our vast knowledge and experience of the admissions process to help you understand whether including a special circumstance on your application is applicable.
Western Ivey Application: (4) Education
The Education section asks the applicant to input various pieces of information such as the name, city, province, and country of the institution they currently attend, when they started and expect to finish at this institution, and the level completed.
Does Ivey admissions care where you went to high school? Do they look at some high schools harder than others?
Learn about this, and much more through our Youth Coaching Services!
Western Ivey Application: (5) Grade 12 Math Prerequisite 
The Grade 12 Math Prerequisite section is there for an applicant to show they have fulfilled the required math component of the application. This is where an applicant will show Ivey they have completed, are in the process of completing, or plan on completing one of the three 4U level math courses (as discussed above).
We cannot be 100% certain, but our team highly believes Ivey includes this step to prevent reliance on OUAC data which can take weeks or months to arrive for any given student's application. Instead, they get a better picture of a candidate's math background by asking a simple question on their application.
Furthermore, with students applying from all around the country, and even the world, it is easier for Ivey to ask about math themselves instead of waiting for these other jurisdictions to provide the data.
Western Ivey Application: (6) Awards (Optional)
The Awards section is an optional one, where applicants can list up to 15 awards they have been given over the last 4 years.
For each potential award, a candidate will be asked to list the Award Title, Granting Institution or Organization, a brief description of what the award is, and the date you received the award.
Awards must be listed in reverse chronological order, meaning the most recent awards should be at the top of your list.
For example, if you were voted Most Valuable Player out of all student athletes at your high school, your first row could look something like the table below.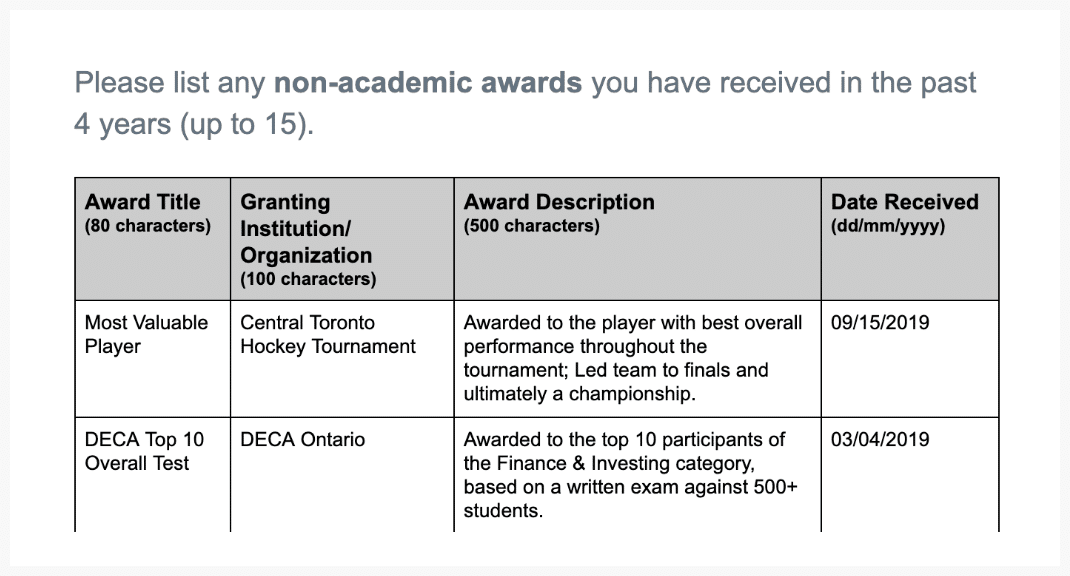 COACH'S TIP: It's always important to stress the number of students who won the award, so you can really stress the impact of the award and your achievement. For example, an award with eight winners may not be as impactful as one with a single, elected winner, such as MVP or Valedictorian.
Want tips for writing the Awards section as well as templates to help you out? Check out this page.
If you don't think you have any experiences that qualify as "Awards", don't fret.
When you connect with a Youth Coach, you will have access to a list of incredible opportunities that can help you solve this problem and become an even better candidate than you already are!
Western Ivey Application: (7) Top 2 Activities
This section is arguably the most important part of the Western Ivey HBA AEO Application.
As mentioned previously, Ivey states that one of the admission requirements for the program is 'demonstrated leadership through extracurriculars'. These essays are exactly where you show this leadership off.
This is where Ivey will separate the admitted candidates from the rejected ones.
The application asks for your top 2 activities that you participated in within the last 4 years. 
These experiences can be anything from volunteer community service, summer jobs, starting your own business, writing a book, teaching international students English, and everything in between. Basically anything that shows your exceptional leadership.
The "Activity Description" section is where you will show why the Ivey HBA Program should admit you with AEO Status.
Keep reading below to learn more about the Activities Essays (and check out our Western Ivey App Prep Guide for a complete breakdown).
Western Ivey Application: (8) Additional Activities (Optional)
The Additional Activities section gives candidates an opportunity to briefly mention any other activities they have participated in that they believe would help show their leadership qualities.
Ivey will ask for the exact same information for the additional activities as they did with the main activities (click here for a blank template you can use).
Before you get started writing about any activities you should take the time to think of all your activities and rank them in terms of impact on your candidacy.
For example, let's say you have:
Activity A: Founder of a Sign Language Club at your high school, recruiting 20 members in the first year, and coordinating your club to sign at some event
Activity B: Participated and won a stock market challenge at your high school
Activity A would be a much better activity to write about in the Main Activities section as you can really go in-depth on what you did as the founder of the club, how you recruited so many people, and how you coordinated the event. Whereas, Activity B, which could still be a good activity to mention, might be better suited as more of an "add-on" activity.
Visit our Western Ivey App Prep Guide for templates and examples you can use as you're writing the Additional Activities section.
Western Ivey Application: (9) Work Experience (Optional)
The Work Experience section is, again, the same as the previous Activities sections. In this section, Ivey asks for some basic information about what you did in the role, when you worked in the role, and what type of role it was (internship, etc.). 
If you don't have any work experience, don't fret, as this is an optional section of the application.
Ivey understands many of their candidates may not have had work opportunities, especially depending on their age with some provinces having laws in place requiring workers to be over a certain age.
However, if you DO have work experience this is a fantastic opportunity to display how hard of a worker you are, what you were responsible for, and what the positive outcomes on the business were. When talking about outcomes, it is important to use quantifiable measures to evaluate your success.
For example, saying you "saved the company $50,000 within the first four weeks working there", is substantially better than saying "saved the company a lot of money during your time there". The first statement shows hard facts instead of vague commentary.
Western Ivey Application: (10) International Experience (Optional)
The International Experience is also an optional section of the Western Ivey HBA Application.
If you have any experience volunteering, working, or participating in some activity internationally this is the section to highlight it.
Ivey asks for slightly less information in this section, but it is still very important to stress your importance within the experience if you do choose to write about it.
Also, make sure the experience is worthy enough to be included in your application. For example, going on vacation to Europe for three weeks and learning some Italian is NOT what Ivey is looking for in this section.
Note: All of these sections above require you to add a reference to acknowledge the accuracy of everything you've submitted. Continue reading as we address this in detail.
Western Ivey Application: (11) Languages
The Languages section is extremely brief, with the applicant stating what languages they speak, and what level they are at for each. Only speaking English is very common for most applicants, so don't feel discouraged if you don't speak more than one language.
Are you tired of constantly having to log in to the Ivey Application Portal to work on your application? Do you want access to a Google Document template that would allow you to easily add, save, and share your application in the EXACT same format as the Application Portal? Connect with a Youth Coach to get access to this and so much more!
It cannot be stressed enough that the main point that should be highlighted in any of these sections is what YOU did as an applicant. For example, being on a team that won a championship is great and the Ivey HBA Program definitely likes recruiting winners. However, they care far more about what YOU did to bring that team to victory then just hearing you were a part of the team.
The Activities and Essay Question should take the majority of time in terms of completing your application and are the main way for Ivey to separate you from other candidates.
Western Ivey Supplementary Application Activity Essays (2023)
The Activity Essays are undoubtedly the most important part of your application and are what will set you apart from the thousands of other applicants competing against you for those coveted AEO statuses. 
For the 2022/2023 application (i.e. for students who plan on attending Western in Fall 2023), prospective students must write two, 500-word essays, each on any 2 of their chosen experiences. These can be work experience, extracurricular experience, or any other application acceptable experience.
In these essays, Ivey wants to see LEADERS, meaning it is incredibly important for you to stress your impact on the activity.
Your Activities Essays give you the opportunity to be unique, authentic, and memorable. As a part of our 'full student' coaching process, we've developed a method called the Narrative Communication Approach™ which allows you to effectively communicate your experiences, skills, and interest in Ivey using storytelling. We've incorporated this approach into all our Western Ivey HBA essay examples and templates, which you can use to showcase your interests, experiences, and skills.
Since the essays are so vital to a candidate's application, your coach will work with you 1-on-1 to communicate your ideas in a unique and memorable way, and they will provide great examples of how to tackle this section of your application.
How to Get Into Western Ivey HBA
"How can I get into Western Ivey HBA?! It's such a competitive program!" We hear this ALL the time from students.
Although it might seem like getting into this top-tier is almost impossible, we've learned over the past 10+ years that the best thing you can do to set yourself up for admissions success is putting in the work BEFORE you even get to the point of writing your supplementary application.
Ivey is looking for students who have made a real effort to gain life experience, develop real world skills, set and achieve big goals, become strong leaders, and go above and beyond to improve in all areas of their life.
Western Ivey gets thousands of applications every year. Because of this, you need to make the extra effort to make sure your supplementary application is memorable, unique, and authentic and really showcases your efforts at personal growth. You also need to show who you are by giving as much personal insight as possible. Talk about your experiences, your goals, lessons you've learned along the way, and what makes you, you. That is EXACTLY what will set you apart from the crowd.
Not sure how to incorporate all these things into your application? Connect with a coach and check out our Western Ivey HBA App Prep Guide to learn about creating a unique application that gets noticed.
Western Ivey HBA Reference
As a part of your application, you'll be asked to provide the name, position, email address, and phone number of a reference for each activity. They will be contacted to verify what you've said is true.
COACH'S TIP: We highly recommend that you contact your references before submitting your application and give them a heads up that you've chosen them as a reference. You can even speak to them quickly and give a quick summary of the information and learning outcomes you described in your essay, just to make sure you're both on the same page.
Don't over exaggerate and NEVER provide false information when describing your activity and your role, time committed, etc. The last thing you want is for your references to say that they don't agree with the information provided.
References are sent an electronic copy of your exact essay about the respective activity and asked to confirm whether what you said was true or not.
In other words, they get a copy of your essay and have the choice of saying "Yes, I agree with the information provided" or "No, I disagree with the information provided" on your application.
The form your references receive looks like this:
Western Ivey HBA Application Deadline
The Ivey AEO deadline for 2021/2022 is January 12, 2023 at 4:00pm EST if you are applying from secondary school.
As with many of Ivey's deadlines, this is an extremely strict deadline.
Therefore, late submissions will NOT be considered in any form.
Visit this page for more information about Ivey's deadlines, including deadlines if you're applying from university.
So, does applying earlier matter? If you want more information and insights on when you should apply to maximize your chances of admission, connect with a coach now. 
Rankings & Lists
Best Business Schools in Canada 2022/2023 (Undergraduate Programs)
You're investing a TON of time, money, and energy towards your future. You've gotten the grades, done a bunch of… Read more
About the Western Ivey HBA Program
The Ivey HBA Program is undoubtedly one of the best business schools in Canada, plain and simple. 
Its graduates hold high positions in almost every industry and at the most prestigious firms in the world.
The program is 2 years (more if a student undertakes a dual degree path) of rigorous case-study method learning that aims to prepare graduates for real-world situations in which you have to make a crucial decision without all necessary information. 
The subsequent information will help shed light on any and all important information a potential HBA candidate should know.
Before you continue reading, check out this Day in the Life of a first year Western Ivey HBA (AEO)/BMOS that Youthfully Insider, Salina, created to help students just like you.
Western Ivey AEO vs. HBA
Having AEO does NOT mean you are in Ivey.
This is an extremely common misconception and one that has caused many headaches for the program.
The AEO status is technically a conditional offer into the HBA program.
So, what do you need to get into the Western Ivey HBA program?
To fulfill the conditional offer, you must maintain a minimum 70%+ average in your first 2 years of university with a full course load (10.0 Western courses), including Business 2257 (or equivalent).
Students in the Faculty of Engineering need only maintain a 78%+ average as Ivey recognizes that in the first few years of this faculty it can be very difficult to earn over 80% in classes.
IMPORTANT: While the minimum average is 70%, Ivey states that a competitive average is at least 80%, along with demonstrated leadership in extracurricular activities, community involvement, and work experience.
Ivey does NOT want students who have extremely high grades but absolutely no extracurricular involvement. There have actually been cases where a student had a 95%+ average in their first 2 years but didn't get into Ivey as they had absolutely no extracurricular involvement. 
On the other hand, I have very close friends who did not maintain an 80% average, but had extremely powerful extracurriculars (President of university club, started their own business, etc.) and still got into the HBA program. However, these friends were only about a percent off of an 80% average, so if you were at a 70% average there is no way you would fulfill your conditional offer.
It is important to note that this is NOT the usual progression path and is extremely rare. Furthermore, Ivey could get much stricter in their requirements at any given time. So, if you want to maximize your ability to fulfill your conditional offer keep involved in the university community and study hard to get over an 80% average.
To learn more about Ivey HBA requirements, visit this page.
Western Ivey HBA AEO Courses & Classes
With AEO status, a student will complete their first 2 years of university in any faculty, which Ivey calls the 2+2 Method. 
For example, I personally did my first 2 years in the BMOS Program but I have friends who did their first two years in Political Science, Engineering, and even some in Music!
My advice: Your electives should be something you love.
To maintain the crucial 80% cumulative average, you really need to be motivated to study for your classes, and when you have a true passion for what you are learning it makes the process substantially easier.
There will be tons of people telling you to take "bird courses" and some of them might be true.
However, a bird course for one person may be an absolute nightmare for another student. For example, I loved Math 1228 in my first year at Western and did extremely well, finishing with a 96%, yet I had friends who took that course and practically failed it. 
This is a major difference between the AEO/HBA Program and other major business schools.
Other schools will start with core business courses such as accounting and finance from day one, whereas Ivey gives you the opportunity to focus on other topics you may enjoy before diving deeper into the business world.
I believe the 2+2 Method is a truly underappreciated one. When students finally get to Ivey, the class discussions are so much more interesting as all the students come with their own personal experiences and learnings from their former programs.
For example, in one of my classes a student analyzed a case from a very technical psychological perspective, their previous program, and it shed a new light on the issue at hand that would have never been represented had all the students come from the same business background.
Once in Ivey, students are assigned to a "Section". This is like a homeroom class in elementary school with the students staying in the same classroom and the professors coming to them.
Since you are in the same room with the same people from 8AM-1PM Monday to Friday, you get extremely close with your section. I met some of my closest friends in my section and still, to this day, catch up with them on a regular basis. The familial feelings cannot be underestimated!
Sections also compete against each other in various events, such as philanthropic endeavours or intramurals, much like Hogwarts!
In terms of classes, all HBA1s have a standardized schedule, meaning everyone is taking the same classes at the same time. This is helpful because Ivey loves to promote working in groups, so although you may have friends in other sections you can still work through cases together.
The Core Courses in HBA1 are as follows (10 courses, 7.5 credits):
These core courses require an extreme amount of effort by the student and the learning curve should not be underestimated. It will be a very challenging time in your life, but at the end you will make it through and the benefits will be unparalleled. For more information on Ivey HBA Year 1 courses, visit this page.
Once in HBA2, students have much more flexibility in the courses they are able to take. The 3 mandatory classes and the Ivey Field Project can be seen below. 
The Ivey Field Project is a very interesting experience that spans across the first semester of HBA2. This project gives HBA2s the chance to work in a group to solve a problem for real companies in the country, or to create their own good or service. 
The Ivey Field Project gives Ivey graduates the chance to work on legitimate business problems and really build up their professional resume.

Other than the three mandatory courses, there are over 40 elective courses to choose from!
It is important to note that If you want to go on exchange in your final semester of HBA2 you need to do all the mandatory courses in the FIRST semester. I have many friends who did this and it is never a major issue.
Feel free to contact help@youthfully.ca or connect with a coach if you have questions about any specific class, or you can read short descriptions about each HBA1 or HBA2 course in the attached links.
Western Ivey HBA Ranking & Reputation
The Ivey HBA Program has a stellar reputation in Canada and it is commonly looked at as one of the best in the country.
If you're Googling "Best Business Programs in Canada", the vast majority of the rankings are on MBA programs or overall business schools, rather than the undergraduate program, so be wary of this (and check out our awesome blog about the Best Undergraduate Business Programs in Canada here!).
Ivey's MBA program is also world-renowned, with Bloomberg Businessweek ranking it the best MBA Program in Canada for the last 7 years.
As shown, Ivey's MBA Program is ranked #1 in Canada on Compensation, Learning, and Networking opportunities. These are all very transferable to the HBA Program as the case-method learning style and professors are the same between the two programs, the networking events are similar, and compensation is also above-average for both graduate cohorts.
In conclusion, people can debate endlessly as to which undergraduate business program is the best in Canada, but Ivey's HBA Program will always be a large part of the conversation.
Western Ivey Co-Op
Ivey's HBA Program does not have co-op, otherwise known as co-operative education.
This means that work experience is not directly integrated with your degree like it is in many other business programs.
In my opinion, this is the biggest issue with the program. Co-op is so obviously where the future of education is heading.
However, Ivey shows no signs of building a co-op program in the future.
Instead, they have a Career Management Centre and many summer internships available to students between their HBA1 and HBA2 years with 95% of HBA students, or 463 students, in 2021 reportied doing a summer internship. Ivey also states that 34% of these summer internships were facilitated through the program.
Looking at this positively, your job finding skills will grow immensely because you aren't 'handed' a job.
The Career Management Centre will support you with résumé development and interview preparation, and you'll have some good professional development opportunities. However, at the end of the day, it's up to you to speak to recruiters, network, and actually obtain the job, which better mimics the real-world.
Western Ivey HBA Job Placement & Starting Salary
The Ivey HBA employment statistics are impressive to say the least, as 94% of job-seeking students got at least 1 job offer within 3 months of graduating, and 98% of graduates seeking employment received an offer within 6 months of graduating. 
Here's the breakdown by industry for 2021 (image credit):
In terms of base salary, the highest salary from the Ivey HBA graduates in 2021 was an astonishing $255,141, while the average salary was $69,845.
In terms of signing bonus, 28% of graduates received one, with the median amount being $5,000.
If you're wondering what companies Ivey HBA graduates go to, the answer is:
All of them.
From Adidas to ZS Associates, HBA students are everywhere.
Since 93% of HBA students have summer internships between their HBA1 and HBA2 years, Ivey also collects some thorough data on these. 
The average weekly base salary for these internships is $997, for a monthly average of almost $4,000. 
Most of these internships run between May to the end of August, with some starting in June, meaning students can make anywhere between $12,000-$16,000 over the course of their summer. 
Check out some more impressive stats about Western Ivey graduate employment on this page.
Western Ivey HBA Scholarships
There are no Ivey-funded scholarships for AEO applicants.
However, there are almost one million dollars worth of scholarships and awards for incoming HBA students. 
These scholarships are applied to by denoting your interest in them when fulfilling your AEO2 progress report after your second or third year of university.
You can, however, apply to the incredible amount of scholarships, grants, and bursaries provided to Western students when going through the admissions process.
Applying to these scholarships is a fantastic opportunity and would surely help your AEO application even if you are just nominated and don't end up winning. These scholarships are extremely competitive, so don't feel too bad if you don't win one.
If you want to apply for a scholarship, connect with a coach now to make your application more competitive. We've helped our students win more than $1 million in scholarships and awards!
Western Ivey Society & Clubs
The culture at Ivey is one of the most well-regarded aspects of the program. You will be surrounded with the smartest, most talented individuals in the country. 
Having the mutual understanding of how hard it was to get into the program leads everyone to respect each other, which leads to making friendships and connections extremely easily.
In terms of clubs, Ivey has 25 student-run clubs for HBAs to join in either of their years at Ivey. 
Clubs are a fantastic way to continue your involvement as a leader and many of them are practical, such as the Ivey Accounting Club. This means you can further increase your technical skills and get some hands-on experience as well!
These clubs have fantastic funding with students getting custom Patagonia vests, going to exclusive recruiting events, and sometimes even doing office tours of the most elite companies in the world such as Bain & Company, Goldman Sachs, and more.
I had the luxury of going to an exclusive Bain & Company office tour that was only available to 10-15 HBAs and it was an absolutely incredible experience.
These opportunities can sometimes be the difference maker between getting an interview or not, especially with how competitive the recruiting processes can be for these firms.
To learn more about Ivey clubs, visit this page.
Western Ivey International Exchange / Study Abroad
Another strength of Ivey HBA is its international exchange program.
In their final semester of fourth year (HBA2), students have the option to go on exchange for one semester. Around 20-25% of Ivey students participate in the exchange program.
I did not personally go on exchange as I was starting my MSc in Business Analytics at Ivey, a blooming program at Ivey. However, many of my friends did and said it was an absolutely life-changing experience. The classes on exchange are also usually pretty easy, many of them being graded on a pass/fail basis, which allows you to travel and explore the new environment!
Ivey has over 40 exchange partners based in over 25 countries with a focus on Europe and Asia. When I was applying to the program in January of 2014, I believe there were only about 30, so this is a major area of growth for Ivey.
To learn more about the Ivey exchange program, visit this page.
Western Ivey HBA Dual Degrees
A major advantage Ivey has is the vast number of Dual Degree offerings.
Since all students in Ivey complete their first 2 years of university in their faculty of choice, many people will choose to finish this program along with their HBA acquiring two degrees at once.
From my experience, the most popular Dual Degree option is Engineering with many students earning their BESc and HBA in 5 years. Another popular and very valuable choice is the Law Dual Degree with students earning their HBA and Juris Doctor (Law Degree) in 6 years. 
There are also opportunities for Dual Degrees in other programs like Economics, Health Sciences, Psychology, Political Science, and Music (see the full list here).
Although this seems daunting, by going through the Dual Degree you will actually save a year of your time, as you would usually start a 3-year Law program after finishing four years of undergraduate studies.
As an Ivey HBA graduate, you would also have the option to fast-track the completion of any Ivey Masters program, including:
MSc in Business Analytics, International Business, or Digital Management
MBA Direct, or Accelerated MBA
I personally took this route and completed my MSc in Business Analytics while finishing my HBA. Not only does being an HBA allow you to fast track this, but the program usually gives a scholarship up to $10,000 for HBAs who are staying at Ivey to complete the MSc. 
To learn more about Combined Degrees and Sequential Degrees with Ivey, visit this page.
Western Ivey Majors & Minors
As mentioned previously, Ivey does NOT offer majors or minors in anything other than 'business'.
The official degree is an Honours Bachelor of Arts, Business Administration.
This is what will appear on your diploma and nothing else.
Western Ivey Tuition
Here's what you can expect to pay for Western Ivey HBA (for all 4 years, including AEO):
REMEMBER: This does NOT include the cost of other expenses like residence, food, transportation, books, etc.
Clearly, Ivey's HBA Program (Years 3 and 4) is very expensive compared to the first 2 years. The upside is that you only have to pay this much for 2 years, versus another program like Queen's where you have to pay roughly the same for all 4 years.
For more information on Western Ivey tuition and expenses, visit this page.
Western Ivey HBA Notable Alumni
Many notable Ivey alumni were actually graduates of their MBA Program such as Kevin O'Leary, David McKay, and Michael McCain.
However, the HBA Program still has some notable alumni. For example, Michael Katchen, the Co-founder and CEO of the immensely-growing financial services company WealthSimple graduated from the HBA program in 2009.
It's difficult to define "notable alumni" because everyone considers notability differently.
If you want to get a feel for what Ivey alumni are doing after graduation, check out the Ivey InTouch Alumni Magazine.
Another major, and likely underappreciated aspect of the HBA Program, is their extreme dedication to maintaining a connection between their Alumni Network and current HBA students.
For example, all HBA students have access to an alumni database in which they can type in any industry, company, or city, and find a list of all alumni from Ivey who work in these respective areas. 
This is an unbelievable advantage over other schools, especially when it comes to learning about full-time opportunities after your time at Ivey.
Questions from Students About Western Ivey HBA
Our Youth Coaches get a lot of questions from students about Ivey and their HBA program, many of which are extremely common, others much less well-known. 
My hope is that the answers given here will assist in removing some of the mystery surrounding the program.
Who or What is "Ivey HBA"?
The Ivey Business School is named after the unparalleled lawyer and philanthropist Richard M. Ivey.
Ivey was born in Canada, attended Ridley College, and then went to Western to study business. 
Richard started the Richard Ivey Foundation with his father and made an unbelievable amount of donations to Western University. To show their appreciation, Western named their previously unnamed business school after Richard Ivey.
Richard Ivey recently passed away in 2019 at the age of 94, but his legacy and generosity will live on for decades to come.
Now, while they are officially known as the Ivey Business School at Western University, that's quite a mouthful for most people.
Most of the time, people will simply refer to the school as "Ivey".
When writing applications, I would suggest using Ivey Business School first and then using just Ivey later in the applications, especially if you are trying to get under the required word limit.
Another important thing to recognize, is that although the word Ivey is in the school's name, it is NOT an "Ivy League" school such as Harvard, Yale, or Columbia.
This is important because if you write anything about Ivey being an "Ivy League" school, or forget the "e" in Ivey, you can be sure the Admissions Board will look at your application negatively.
Is Western Ivey HBA Hard?
Ivey will likely be the most rigorous and challenging educational experience you will have had up to that point. But don't let that scare you.
The HBA program is meant to push all students outside of their comfort zones and prepare them for the "real world" in which deadlines appear abruptly, working with teams is a must, and ambiguity is everywhere.
However, when you come out on the other side and graduate the program, you and any employers will know you have what it takes to truly succeed in any position you are placed in. 
This is why so many Ivey graduates have been massively successful in the ever-changing world we live in today.
Why Is Western Ivey HBA So Expensive?
This is a fair enough question and it is an important factor when making your final decision.
According to University of Western's Ivey website, the tuition is based on a 2+2 Method.
The first 2 years of your undergrad studies will be dedicated to regular programs of your choosing with the last 2 committed to the HBA. The cost of the first 2 years is your average undergraduate tuition with the final 2 years costing over $25,000 per year for domestic students (and $35,000-$50,000 for international students). See the full breakdown here.
So, what are you paying for?
First, when entering the business program, you have to keep in mind that you will be networking with fellow students and faculty and this is a remarkable resource.
The program offers world class faculty members with a wide range of invaluable experience. It also offers innovative research, research groups, centres and institutes as well as publications. Like with most other universities, tuition most likely goes to these areas of the school: faculty and research. 
On top of that, the students you will be learning alongside are some of the best and brightest in the country. It will certainly motivate you to do your best and to push yourself as a leader.
Many of the students who have graduated from this program have successfully transitioned into the business world. Building that network in Ivey has prepared them to have incredible careers outside of the classroom walls. 
This is because the brand behind Ivey is well-known in the business world and has an excellent reputation. Being a graduate of the program means you have a leg up in jobs and it opens doors that aren't normally open for students from other schools, especially in areas such as consulting and iBanking. 
Additionally, if you are admitted to the HBA Program, you might also consider the MBA program which has been ranked #1 in Canada by Bloomberg Businessweek (2019-2020).
Is Western Ivey HBA Worth It?
This is a great question. The HBA is, without argument, expensive. However, you're not alone wondering if it's the right investment.
I've seen that many prospective students wonder if a general economics or finance degree will be enough after they graduate. I don't have the answer for that, but what I do know is that the HBA is built for those who want to take on leadership roles in the business world. 
This means having the motivation, drive and commitment that acceptance into Ivey requires.
It's important to keep in mind that with the HBA you aren't just paying for a degree, you're investing in a reputable education and building a network. These are crucial components to consider when making your final decision. 
Ivey has a great reputation and an expansive network in the Canadian business world. Graduating from this program could open a lot of doors and give you a leg up for an amazing job after you graduate.
It's also important to keep in mind that having an Ivey HBA isn't a direct shoe-in for an amazing job.
Knowing what field you want to go into is important before making your decision on the HBA. Certain fields do not pay as much as, say, consulting or finance.
Although the average starting salary for Ivey alumni is high, that could be because graduates have chosen high-paying fields. These are details you will have to consider.
In the end, where some students see the high tuition as a deterrent, others see it as an investment, despite the potential for heavy student loans. In the end, it will be a decision that you are the most comfortable making.
How Do I Get Into Western Ivey HBA AEO?
This seems like a straightforward question, but like many competitive programs, it's layered.
Academics: You need amazing grades to be considered for AEO for Ivey. Upon graduating high school, you will need a minimum 93% average in your top 6 required courses. 
Extracurriculars: Ivey weighs grades and extracurriculars on a 50/50 basis meaning they are equally important. Not only will you have to have a 93% average (or higher), but you will need to display a lot of breadth with things like your non-academic awards and international experiences. A couple of these you will want to show your level of commitment, dedication, and leadership potential. Connect with a Youth Coach to learn how!
Essays: You need to kill your essays. How? Provide insights, introspection and elevated thinking all in a well-written and uniquely creative response. Remember, Ivey is looking for the best and the brightest. You need to show them what you're made of. Learn how to do this (and more!) in our Western Ivey App Prep Guide.
By working 1-on-1 with a Youth Coach, you will be guided through the whole process of how to effectively communicate your skills and experiences, so that you can stand out from the crowd and write a truly memorable application.
It's also extremely helpful to have one of our team guide you through the whole process because it can be a little overwhelming. We have a 90% success rate for our previous students and over a decade of experience in admissions consulting.
Needless to say, we know what we're doing and we want to help! 🙂
Application Prep
Queen's Commerce: Supplementary Application Essay Examples & Templates 2022/2023
If you are looking for guidance on the Queen's (Smith) Commerce supplementary application, as well as Queen's Commerce essay examples… Read more
Business School Comparisons
Before I start comparing schools, I have to preface by saying I've only actually attended Ivey.
However, I have friends and former work colleagues that have gone to all of the top business schools in Canada providing me with a wealth of knowledge on all of the options available.
At the end of the day, these are my personal, subjective thoughts based on the information I have at hand and have gained over the years.
But let me tell you this:
You need to make a decision that's best for your needs, and no one else's.
Western Ivey vs. Queen's Commerce (Smith Business)
This is hands-down the most frequently compared business schools in Canada.
For the few people who know they want to take core business classes for the entirety of their undergraduate careers, Queen's Commerce is probably the better fit.
However, as previously mentioned, I believe the 2+2 Method used by Ivey is an incredibly powerful system that thoroughly improves diversity of thought, something many employers look for in candidates.
Also, if you get to Western, spend 2 years in an entirely different program, and realize you would prefer to finish that program instead of going to Ivey, you do not have the sunk cost of two years worth of premium tuition as you would if you went to Queen's and realized business school wasn't for you.
Furthermore, Ivey provides an outstanding amount of dual-degree programs, meaning if you love the nature of your coursework from the first two years and want to combine that with your business degree, you can easily do this as well!
A definite advantage for Queen's is the fact that their Commerce students can get business-related summer internships after their first year, whereas Ivey students can usually only get these opportunities after HBA1, maybe second year if they are extraordinary candidates.
Another advantage for Queen's is the piece of mind knowing when you get your acceptance to the program, you are in. This is much different than the AEO status you would receive for Ivey, as you still need to maintain both high academic and extracurricular standards.
I actually have some friends who chose Smith Business over Ivey because they were too nervous they wouldn't be able to maintain the necessary requirements for AEO status during such a monumental transitional period as moving away to university.
This is an extremely fair reason and one you need to be honest with yourself about. Personally, I used the AEO requirements as motivation to continue working hard while at school and I am extremely glad I made the decision to go to Ivey.
From my conversations with friends who went to Smith Business, almost 90% of students will go on exchange in their third year with the program vigorously encouraging them to do so.
Exchange programs at Ivey are during your final semester of HBA2, meaning you would have your last classes at Ivey in December, which leads to students feeling they "missed out on saying a proper goodbye to Ivey and Western".
This is actually the reason why I did not want to go on exchange when I went to Ivey. I wanted to spend my last semester at Ivey, really soaking in the incredible facilities and the times with all my friends who were also not going on exchange.
If you are dead set on exchange, I would likely suggest Queen's over Ivey.
I'd say Ivey has a slightly stronger international and cross-Canada reputation, piggybacking off their MBA program.
As an extremely proud Ivey graduate, I'm obviously a little biased in my mindset. However, I believe if you were to go to either of these schools you would be setting yourself up greatly for the rest of your career.
It all depends on what you place the most value on, because at the end of the day, this is YOUR decision, no one else's. 
Program Guide
Queen's Commerce: The Definitive Guide for Applicants (2023)
If you're applying to Queen's (Smith) Commerce, or you're simply interested in learning more about the program, this guide is… Read more
Western Ivey vs. Rotman Commerce
Rotman Commerce honestly doesn't get enough credit.
Being in Toronto, you'd have access to the best teachers and employers.
I'd even say their career services office is better than Ivey's, as it offers focused programs that help you obtain careers in certain fields, such management consulting.
However, having spoken to Rotman Students I worked with, they definitely wished there was a better sense of student pride and culture compared to Ivey which is well-regarded as one of the closest-knit schools.
The student body can make a huge difference for a business school. It means more employers, more student clubs, and more competition in class.
If tuition is a concern and you need to live at home in the GTA area, go to Rotman.
Otherwise, Ivey takes the cake due to its incredible culture and the lasting relationships you will make with your Section-mates and other HBA students.
Similar to Ivey vs. Smith Business, graduates from either Ivey or Rotman will be very solid candidates in the job market. It is more so a personal preference to what YOU are looking for in your university career and the personal preferences potential employers may have, which is always extremely hard to predict.
Program Guide
University of Toronto Rotman Commerce: The Definitive Guide for Applicants (2023)
This guide is for you if you're thinking about applying to the Bachelor of Commerce (BCom) program at the University… Read more
Western Ivey vs. McGill BCom (Desautels)
McGill has a few differences over Ivey.
First, it an incredibly diverse class:
39% come from Quebec
20% come from other Canadian provinces
41% come from international
Second, Desautels has the highest grade requirements out of any undergraduate Canadian business school (95%). However, they don't look at anything beyond grades which could come to hurt their graduates when applying for jobs that require more than just academic achievement.
Finally, the fact that McGill is based in such an incredible city as Montreal makes it far more exciting than London.
If you're looking to work in Montreal and/or somewhere where speaking French is a necessity, McGill BCom is easily the best choice as living in Montreal will provide you with the opportunity to learn or greatly improve on your French-speaking skills.
If your focus is Ontario, stick to Ivey.
Western Ivey vs. York BBA (Schulich)
York and Ivey are two completely different schools.
Ivey is an extremely tight-knit, almost familial environment school.
You build unbelievably strong relationships with your classmates that will last a lifetime, whereas York is more of a metro, commuter school without much of a student culture.
Ivey will get students major access to the most prestigious companies, such as Goldman Sachs, McKinsey and Google, whereas I don't believe the accessibility is as strong for Schulich students.
Starting salaries and employment stats are noticeably lower at Schulich.
If cost is a huge factor (and you live in the GTA), go to Schulich.
If your sole goal is to become an accountant at a Big 4 or gain an above-average, entry-level business job and you don't care much about (or can't afford) to get the 'true' university experience away from home, then simply go to Schulich.
It's still a great program and has very high, holistic admissions standards.
It's a very diverse class and its MBA program has a great reputation you can piggyback off of.
Program Guide
York Schulich BBA: The Definitive Guide for Applicants (2023)
This guide is for you if you're applying to York Schulich BBA, or you are simply interested in learning more… Read more
Western Ivey vs. UBC BCom (Sauder)
This is a pretty tough comparison because these are both pretty great programs in their own ways.
The fact that UBC BCom has co-op is a major advantage over Ivey.
If you appreciate the great outdoors and adventure activities, go to UBC.
London is and always will be a great university town, but it could never compare to the unbelievable landscapes British Columbia has to offer.
If you want to work for unique west coast companies like Amazon, Lululemon, and EA Sports, go to UBC.
However, if you want to work on Wall/Bay Street or management consulting, Ivey is undoubtedly the better option.
UBC has their Portfolio Management Foundation (PMF) program within its BCom, which is quite prestigious and puts many people at the top banks.
However, the program only selects five to six students out of a class of 1,000, making it unbelievably competitive and pretty unrealistic.
UBC's average entrance salary is substantially lower than Ivey. It's actually the lowest out of all the top BCom programs in Canada.
If weather, lifestyle, and co-op are important to you—and you don't mind a class size of 1,000 students—UBC might be a good option for you.
Otherwise, I would definitely recommend Ivey.
If all of this information about the program has inspired you to go ahead and apply, let us help you! We have an HBA Ivey grad and former admissions team member who can help you one-on-one with your application. 
Program Guide
UBC Sauder School of Business BCom: A Definitive Guide for Applicants (2023)
This guide is for you if you're thinking about applying to the Bachelor of Commerce (BCom) program at the UBC… Read more
You've Got a Dedicated Coach in Your Corner
For over a decade, we have worked with thousands of students to help them achieve more than they ever thought possible.
Our coaches have a strong success rate supporting students as they apply to Western Ivey HBA, among other top university programs.
Our 1-on-1 Youth Coaching fills that gap that most high schools miss. We can help you build self-awareness through probing questions and assessments, set bigger goals to elevate your extracurriculars and future career plans, and improve skills that matter on supplementary applications, such as interviewing, written communication, critical thinking, and creativity.
We use a coaching methodology, called 'full student' development, that's been proven to increase your chances of admission to top-tier universities and obtaining competitive jobs/internships.
So, what are you waiting for? Fulfill your post-secondary potential with the mentorship and coaching you've always wanted! 🙂
IMPORTANT: Want to share information and/or images from this resource on your own website, blog, article, etc.? Please ensure you reference content of any kind published by Youthfully Inc., in whole or in part, using the following statement: (1) Our Organization (Youthfully Inc.); (2) The title of our content/resource; and (3) the URL to our webpage where the content was originally posted. For example: "Sourced from: Youthfully Inc., 'Western Ivey HBA AEO: The Definitive Guide for Applicants (2022),' https://youthfully.ca/western-ivey-hba-aeo-guide/."

Not doing so is an infringement of copyright and is illegal. We spend significant time developing resources for students, so please take a few seconds to ensure they are referenced properly.

DISCLAIMER: While the information in this blog is considered to be true and correct at the date of publication, and although our team makes every attempt to ensure that the information is accurate and vetted by university staff, Youthfully is not in any way liable for the accuracy of any information printed and stored or in any way interpreted and used by a user.
---
Evidence-based Youth Coaching
delivered by Top Quality Coaches.
1-on-1 Youth Coaching for Students
BOOK A FREE SESSION