If you're applying to Queen's (Smith) Commerce, or you're simply interested in learning more about the program, this guide is for you.
As a potential Queen's Commerce applicant, you're probably overwhelmed by the amount of information out there.
That's why we created this guide.
We'll break down everything you need to know about the application, deadlines, supplementary essays, tuition, about the program, comparisons with other business schools, and more — all in ONE place.
By the way, if you're serious about getting into Queen's, our 1-on-1 Youth Coaching services will help you become a stronger applicant, student, and leader. We work on things like improving real-world skills, building self-awareness, and achieving big goals, so you can maximize your post-secondary potential.
Looking for specific guidance on the Queen's Commerce Supplementary Essays? Visit our Queen's Commerce App Prep Guide (it's free… and pretty awesome).
Before diving into the guide, check out this video we created about Queen's Commerce:
Table of Contents
Admission Process and Application: Acceptance rate; Admission requirements; Deadlines; Supplementary essays; Admissions average; and More.
About the Program: Courses; Co-op; Exchange program; Student clubs; Tuition; and More.
Business School Comparisons: Queen's Commerce vs. Ivey; Queen's Commerce vs. Rotman; and More.
The Queen's (Smith) Commerce Admission Process & Application
We get a ton of questions from students asking about the application process and whether or not their grades, extracurriculars, and other activities will make them a competitive applicant.
In this section, we'll go through exactly what you need to apply, including admission requirements and averages, application deadlines, and how to apply, so you can be confident that you have everything covered.
If you have questions about application strategies, essay tips, and more about getting admitted, connect with a Youth Coach to get all the answers today.
Number of Applications to Queen's Commerce
The Queen's Commerce program receives around 7,000 applications per year.
This is an official number of applications from the Ontario University Application Centre (OUAC) — they also report that applications for Queen's University in general have increased 12.9% compared to January 2021 (that's a lot!).
Apparently, the actual number of applications is more like 8,000 as reported by Smith themselves.
As you can see below, the number of applications has been growing steadily over the past ten years:
Interestingly, Queen's Commerce has held a steady growth rate, while many other business programs have experienced a decline.
In fact, Queen's is one of the fastest growing business program in Ontario with a 7% average annual growth rate over the past few years.
Why is business not as popular as it used to be?
Well, there's a huge push right now for students to pursue STEM, and many students believe business is a secondary option.
Looking at the data, applications to science and engineering programs have grown an annual average of 7%.
Whereas business has only grown 1%.
Have a look at the total application numbers below:
Queen's Commerce Enrolment / Class Size
The total number of enrolled students for the Queen's Commerce Class of 2024 is 500, up from 475 the year prior. For the 2022/2023 application cycle, there are 500 first-year spaces available.
When I was accepted in 2006, there were around 300 other registered students with me.
With the expansion of Goodes Hall after 2010, the plan was to double this number to a class size of 600.
In 2014, they reached their peak at 552.
But students started to complain.
They thought the program became too big and it lost the smaller, tight-knit quality that made this program great to begin with.
So they pulled back.
Today, the Queen's Commerce class size is 500.
See below for this historical change:
Queens Commerce Acceptance Rate
As mentioned above, Queen's Commerce receives around 8,000 applications per year.
With an annual enrolment of 500 students (as of the 2021/2022), people typically calculate an acceptance rate of around 6-7%.
However, that's incorrect.
This calculation DOESN'T include students who do not meet the cut-off.
Apparently, only about 2,500 of those students meet the 87% cut-off that is required for your application to be reviewed.
There are also many students who reject their offers of admission to Queen's Commerce (about 60% of students accept their offers per year, as reported by Queen's itself).
Therefore, the actual Queen's Commerce acceptance rate 15%.
This is calculated by taking the total number of offers (833) divided by the total number of applicants above the cutoff (5,500).
This means that if you meet the cut-off you have a 15% chance of admission, on average.
See the breakdown below.
However, you must remember that the students in this pool of applicants >87% are extremely talented.
If you want to learn how to differentiate yourself and get admitted into the program, check out our 1-on-1 Youth Coaching services and discover strategies to help you stand out.
Queen's Commerce Admissions Average
Let's explore the academic averages of the students who are accepted and enrolled into Queen's Commerce.
In other words: the Queen's Commerce admission average.
Take a look at the graph below:
Before we talk about numbers, let's talk about people.
Why? Because the program director of Queen's Commerce has a lot of influence with admissions.
The director from 2006-2013 was Shannon Goodspeed.
Looking at the graph, Shannon experimented for a few years with the academic blends of her class.
In 2011, 31% of students had between a 85-89% average. Definitely less strict on grades.
Even a handful of students with an 80-84% average got admitted, which is significantly less than the 87% cutoff.
In her last couple years, it looks like she found an 'ideal' class mix for her goals.
When Lori Garnier took over from 2014 onwards, she didn't sway off that formula.
But in 2015-16, Lori started to put a much stronger emphasis on grades, with nearly one-third of admitted students having a 95+ average and less than one-sixth being less than 90%.
So what does this all mean?
It means that grades matter more than ever.
It used to be that you could reach the 87% cut-off and have an equal chance with other students.
But that's simply not the case anymore.
The overall Queen's Commerce admission average for the entrance class has jumped from 91.7% in 2014 to 92.7% in 2016.
We get that this is totally unrealistic for some people, so we always advice our my students to aim for at least a 90% average when applying to Queen's Commerce.
Another way that you can make your application stand out (especially if your grades aren't as high as you would like) is by writing unique and memorable Supplementary Essays that showcase your interests, skills, leadership qualities, and experiences. This can help increase your chances of admission beyond grades. Want to learn more? Connect with a coach and check out our Queen's Commerce App Prep Guide.
Queen's Commerce Admission Requirements
If you currently attend an Ontario high school, you must meet these prerequisites before you can be officially admitted:
| | |
| --- | --- |
| Mandatory Course | Minimum Mark |
| Grade 12 English (ENG 4U) | 80% |
| Grade 12 Calculus and Vectors (MCV 4U) | 80% |
| One other 4U Mathematics course, such as: Grade 12 Advanced Functions (MHF4U)Grade 12 Mathematics of Data Management (MDM4U) | 80% |
| Three additional 4U or 4M courses* | N/A |

*IMPORTANT: No more than two of your 4M courses may be used from the same discipline (Arts, Business Studies, Canadian and World Studies, Languages, Math and Sciences, Social Sciences and Humanities, Health and Physical Education, or Technological Education).
If you're in Grade 12, and these courses are still in progress, you can still obtain an offer from Queen's. However, your offer will be conditional, subject to you completing these required courses.
In BC, you need English 12, Calculus 12 or Pre-Calculus 12 with minimum grades of 80%; and two additional Grade 12 subjects with no minimum grades.
If you attend high school in a different region, use this fancy admissions requirements search tool.
Queens Commerce Supplementary Application
The Queen's Commerce Supplementary Essays (SE) are arguably the most important parts of your application.
You will get 3 randomly generated essay questions. You must answer 1 of the 3 questions.
Each essay must be 2,000 characters or less (including spaces and punctuation).
Here are the important dates and deadlines for your Queen's (Smith) Commerce 2023 Application:
On October 1, 2022, you can start applying to Queen's through the Ontario Universities Application Centre (OUAC) (and you must complete your OUAC application by February 1, 2023).
The Queen's Commerce Supplementary Essay (SE) is available starting November 1, 2023.
The deadline to submit the Supplementary Application is February 15, 2023.
You will have 30 days from when you access the questions on SOLUS to complete and submit your essay. If you do not submit the first randomly generated set of questions by 30 days, another set of 3 questions will appear for you to complete.
The last day to submit your essays is February 15, even if you received the questions less than 30 days before that (i.e. if you got the questions on January 30, the deadline is February 15, February 29 even though that's 30 days).
You can see how many days you have left to complete the questions on SOLUS, shown here:
REMEMBER: The application this year is different from previous years, where Queen's Commerce had November, December, and January submission cycles and asked for a PSE List/Essay.
COACH'S TIP: Your Queen's Commerce Supplementary Essays can mean the difference between admissions success and failure. But don't worry, we've got your back! Using an effective storytelling approach called the Narrative Communication Approach™ to help you showcase your interests, skills, and experiences. Check out these Queen's Commerce Application Prep Guide for templates and examples that use this approach.
Application Prep
Queen's Commerce: Supplementary Application Essay Examples & Templates 2022/2023
If you are looking for guidance on the Queen's (Smith) Commerce supplementary application, as well as Queen's Commerce essay examples… Read more
Queen's Commerce Supplementary Essay Questions
You can access your Queen's Commerce Supplementary Essay (SE) questions on SOLUS.
Tell us about an experience that shaped who you are today.
Tell us about an experience that you did not expect to enjoy, but did.
Share an example of how you have worked to better understand or experience diverse perspectives.
Describe an influential person in your life or someone you admire. Why?
Describe a time when you witnessed something unjust. How would you respond to that situation now?
What advantages or privileges do you have in life and how can you use them to advocate for change?
To get a better idea of the types of questions you can expect in your Supplementary Application, check out our Queen's Commerce Application Prep Guide for question breakdowns, essay templates, and examples.
Queen's Commerce Supplementary Essay Evaluation
"How can I get into Queen's Commerce?! It's such a competitive program!" We hear this ALL the time from students.
Although it might seem like getting into this top-tier is almost impossible, understanding exactly what exactly the admissions committee is looking for can help you create the best application possible.
You also have to remember that Queen's Commerce gets thousands of applications every year. Because of this, you need to make the extra effort to make sure your Supplementary Essays are memorable, unique, and authentic, while giving as much personal insight as possible. Talk about your experiences, your goals, lessons you've learned along the way, and what makes you, you.
Not sure how to incorporate all these things into your application? Check out our Queen's Commerce App Prep Guide to learn about creating a unique application that gets noticed.
Here's some information on how the Queen's Commerce admissions committee evaluates your essays so you can make sure that you're showcasing your journey of personal growth, lived experience, and evolving skills in a memorable way.
The Queen's Commerce admissions committee evaluates each of your two essays using 3 main evaluation criteria.
These criteria are:
Positionality and Lived Experience. Positionality is the understanding of how your identity (e.g. race, socioeconomic, gender, sexuality, etc.) influence your biases in the world. Lived Experience is more commonly understood as 'life experience'. Queen's is looking for applicants who can connect their understanding of their position in life with significant experiences they've encountered.
Connection. Connection appears to simply be defined as answering the question clearly and identifying a clear learning outcome within that answer.
Personal Growth. Personal Growth is the demonstrated ability to understand one's strengths and development areas, and then work to reach their full potential in all areas of their life.
Each of these are rated across 4 possible scores, with "Distinguished" being the highest and "Unsatisfactory" being the lowest.
Here's what the Queen's Commerce SE evaluation rubric looks like:
There is also a final evaluation area, 'Communication Clarity', rated either Satisfactory or Unsatisfactory.
Who wouldn't want to get "Distinguished" scores across the board for both essays?! Well, you CAN.
Check out our Queen's Commerce Application Prep Guide for possible questions, essay templates sand examples, and much more. We also highly recommend that you connect with a coach for access to all the tools you need to write essays that will help you stand out and improve your chances of admissions success.
Queen's Commerce Supplementary Application Deadline
The final Queen's Commerce Supplementary Application deadline this year is February 15, 2023.
REMEMBER: The deadline for applications, changes, or additions to your OUAC application must be done by February 1, 2023. Your transcripts and list of the courses you took in your second semester is due on February 15, 2023. Visit this page for other important deadlines.
If you would like extra support and guidance on the process of completing and submitting your Queen's Commerce application, connect with a coach for all the details.
Queen's Commerce Portal
The Queen's Commerce portal is known as SOLUS.
SOLUS is the information system Queen's uses (run by Oracle's PeopleSoft software) to manage all student applicant information.
You can login to SOLUS by first logging into your MyQueensU at my.queensu.ca.
You'll then be prompted to enter your Net ID, which Queen's should send you after your apply on OUAC.
When you login, you have to click the little red button in the top right to access SOLUS.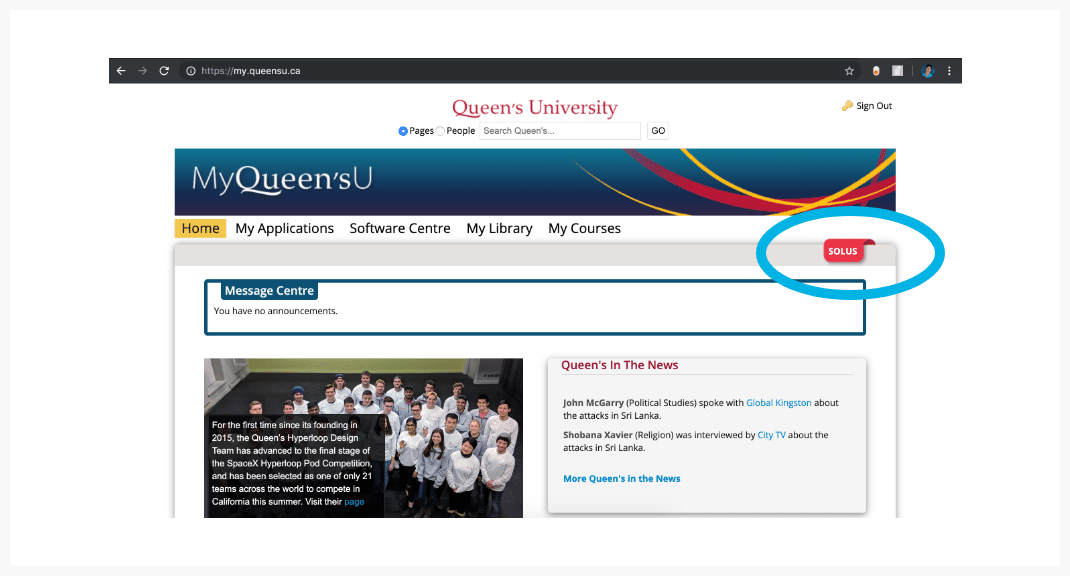 Queen's Commerce Early Admission
Queen's Commerce does NOT have a standard early admission application, like other schools do.
However, there is a way to apply and gain admission long before that of other applicants. Want to learn how? Connect with one of our Youth Coaches now.
Queen's Commerce Scholarships
There aren't many Queen's Commerce scholarships reserved specifically for incoming students.
The best thing to do is browse these 3 categories of scholarships and awards to see what you're eligible for:
When thinking about which scholarships to apply to and getting your application together, we highly recommend connecting with one of our Youth Coaches for support. We've helped students win over $1 million dollars in scholarships!
About the Queen's Commerce Program
In this section, we'll talk about all the things that make Queen's Commerce such a great program, so you can decide if it would be a good fit for you.
If you're curious about what it's actually like to be a student at Queen's Commerce, watch this Day in the Life of a first year Queen's Commerce student that Youthfully Insider, Sara, created to help students just like you.
Queens Commerce – Program Name
While they are officially known as the Smith School of Business Bachelor of Commerce program at Queen's University, that's quite a mouthful for most people.
Prior to the school being named 'Smith', the program was simply known as Queen's Commerce or QC.
However, I've noticed an intentional effort by the school to rebrand to "Smith Commerce".
I'd use this terminology in your interactions with the school, as well as your application.
Evidence below:
Queen's Commerce First Year Courses & Upper Year Classes
Queen's Commerce does a great job of educating students across all disciplines of business in the first 2 years, then allowing students to specialize in third and fourth year.
Many students have told us that this is the best part of the program.
In first year, for example, students must take a full course load of 11 business-related classes, from accounting to marketing.
This page (and below) shows all the required courses Smith Commerce students must take throughout their 4 years.
The only class outside of the Smith School of Business is ECON110, which is a full-year class offered by the Department of Economics.
Every class has its own challenges. For example, Organizational Behaviour involves hours and hours of reading to prepare for each class; and Managerial Statistics requires a lot of work if you're not a math person.
COACH's TIP: In Year 2, you'll be able to choose 2 electives from Arts and Science. Students typically choose bird courses just because they're easy, and then they regret taking the course because they aren't interested in the subject. When choosing a electives, we recommend choosing subjects you like but wouldn't take a course in otherwise. This will keep you interested and give you a more well-rounded education.
Once you get to third and fourth year, you need to take a minimum of five Commerce courses each year, with only one annual mandatory class.
This is your opportunity to specialize in a particular field.
Notice I didn't say the word "major". Smith doesn't offer majors or minors in anything except for general business. Your degree is a BComm—and that's all that will appear on your diploma.
Your transcript, on the other hand, will be requested by certain employers. And it's helpful to adjust your mix of courses based on what you want to do.
For example, if you want to work in finance, you better be taking courses like COMM 323 and COMM 325.
If you want to work in a more general field like management consulting, they might appreciate more of a mixed bag of courses.
Overall, the Queen's Commerce curriculum in its first two years is quite consistent with other BCom's.
The big difference is in Year 3 and 4 when you have a ton of flexibility to create the business degree that you want.
Feel free to reach out to us at help@youthfully.ca if you have questions about each specific class, or you can visit this page to read short descriptions about each Commerce course.
Rankings & Lists
Best Business Schools in Canada 2022/2023 (Undergraduate Programs)
You're investing a TON of time, money, and energy towards your future. You've gotten the grades, done a bunch of… Read more
Queen's Commerce Ranking & Reputation
The undergraduate business program has a stellar reputation in Canada.
Smith's MBA program is definitely not as stellar, but it's improving.
To this day, I don't know how or why this happened.
If you're Googling "Best Business Programs in Canada", the vast majority of the rankings are on MBA program or overall business schools, rather than the undergraduate program. If you want to get all the info specifically for undergrad business programs, check out the blog we wrote about the Best Business Programs in Canada here.
In 2018, Smith was ranked 66th in the world by Bloomberg.
That's very impressive—especially seeing as though this was an MBA-focused ranking.
Either way…
People can debate endlessly as to which undergraduate business program is the best in Canada, but Queen's Commerce will always be a large part of the conversation.
The issue with Smith is its international awareness.
As someone who worked abroad for the first 5 years after graduation (in Australia, Asia, and the US), Smith's reputation is relatively non-existent.
When you look for a job, you can reference rankings like Bloomberg to help educate recruiters, but the fact that Queen's is not a trustworthy brand or familiar name will be an up-hill battle.
For instance, when I was working in New York City, my colleagues thought I went to school in Queens, New York.
Queen's Commerce Co-Op
Queen's Commerce and the Smith School of Business does not have co-op, otherwise known as co-operative education.
This means that work experience is not directly integrated with your degree.
In my opinion, this is the biggest issue with the program. A Queen's Commerce co-op department should exist by now.
However, Queen's shows no signs of building a co-op program in the future.
Instead, they have a Career Advancement Centre and many summer internships available to students, particularly after 2nd and 3rd year.
Looking at this positively, your job finding skills will grow immensely because you aren't 'handed' a job. The Career Advancement Centre will support you with résumé development and interview preparation, but at the end of the day, it's up to you to speak to recruiters, network, and actually obtain the job. This better mimics the real-world.
I found a summer internship at a school board after 1st year (on my own).
Then, I somehow obtained a role as an Assistant Brand Manager at Unilever after 2nd year (through on-campus recruiting).
In 3rd year, while still on exchange, I found a role at BlackBerry (formerly Research in Motion).
After graduation, I wanted to work in management consulting abroad. This wasn't supported by the Career Advancement Centre. They specialize in helping students obtain jobs in Toronto.
So, I led this search and was lucky enough to work with AT Kearney Australia for four years, based out of Sydney and Hong Kong.
Queen's Commerce Job Placement & Salary
The Queen's Commerce employment statistics are impressive, to say the least.
94% of job-seeking students were employed within 6 months of graduation.
Here's the breakdown by industry:
The consulting placement is the most impressive to me.
As a former top-tier management consultant myself, it's an incredibly tough industry to break into.
Maybe this is an indicator of our strong economy? Or the strength of the Commerce student profile? Or both?
Queen's Commerce has an incredibly well-rounded placement. I am particularly excited to see 3% of students pursuing the ever-growing field of data and analytics.
Think about this industry mix with what you seek out of a business program.
Do you want to work at a tech startup? Or a large bank?
You should probably go to school where your goals match the strengths of your school (and the students).
In terms of Queen's Commerce salary, the High Base Salary is $125,661.
The mean base salary reported by Queen's Commerce is $64,737. This isn't bad. But it hasn't grown much over the years. This is an industry-wide issue.
The issue is, Queen's doesn't include details about signing bonuses and other compensation.
That's why Western Ivey's average salary is so much higher at $74,903.
If you're wondering what companies Smith Commerce graduates go to, the answer is:
All of them. From Amazon to Zendesk, Smith students are everywhere.
Queen's Commerce Society & Clubs
Smith Commerce boasts the largest and most successful undergrad business society in Canada.
I'd be happy to debate anyone on this.
The organization is known as the Queen's Commerce Society, or ComSoc for short.
Within Comsoc, there are 55 conferences and committees, composed of more than 1,000 student held positions.
Everything is 100% student-run.
The conferences are world-class and the clubs are operated with clear objectives and exceptional execution.
You could even consider ComSoc a 'quasi replacement' for a co-op program. For example, the Queen's Accounting Association does an amazing job of preparing students for a career in the field.
Queen's Commerce Exchange / Study Abroad
Another strength of Smith Commerce is its international exchange program.
In third year, students have the option to go on exchange for one semester.
Today, well over 90% of Commerce students go on exchange. There's even a scholarship fund to help students in financial need.
I went to the Chinese University of Hong Kong (CUHK) in the fall, then the Bader International Study Centre aka "The Castle" (a Queen's satellite campus in England).
I was the last student to find a loophole by going for two semesters.
Usually exchange classes are pretty easy and you travel every weekend. It was an incredible, eye-opening experience that changed my life.
Smith has over 120 exchange partners based in over 35 countries, and it's growing every year.
Queen's Commerce Double Degree / Dual Degree
Smith Commerce offers only 1 dual degree option with the Faculty of Arts and Science.
This can be done consecutively, but this dual degree requires additional coursework of 126 units.
This would likely extend your time at Queen's to five or even six years.
Learn more about Dual & Second Degrees at Queen's here.
Queen's Commerce Majors & Minors
As mentioned previously, Smith does NOT offer majors or minors in anything other than 'business'.
The official degree is a Bachelor of Commerce (BCom).
This is what will appear on your diploma, and nothing else.
Queen's Commerce Tuition
Queen's Commerce tuition for domestic students in 2021/2022 is $16,288 per year, which includes mandatory student fees.
Tuition for international students is $51,275.
Clearly, Smith Commerce is a very expensive program.
But the demand is there, year-after-year, so I can assure you: it will not decrease. Here's the tuition growth over the past nine years.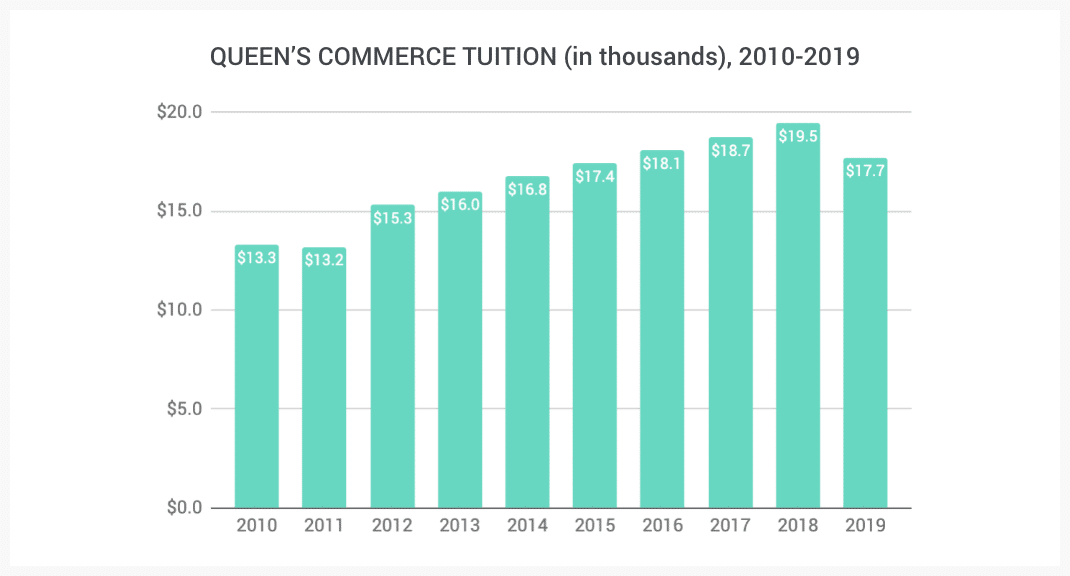 Note the decrease in 2019 year. The Government of Ontario implemented a 10% tuition reduction. More on this here.
Queen's Commerce Notable Alumni
For starters, Elon Musk did not graduate from Queen's Commerce.
He attended the program for two years and decided to transfer to study business and physics at the University of Pennsylvania.
Kimbal Musk (Elon's younger brother), on the other hand, graduated from Queen's Commerce in 1995.
It's difficult to define "notable alumni" because everyone considers notability differently.
If you want to get a feel for what Smith Commerce alumni are doing after graduation, check out the Smith Magazine alumni notes section.
Alumni send updates about their careers and it's all organized by graduating year.
Of course, the three big names you'll hear about other than the Musk brothers are Melvin Goodes and Gordon Nixon.
Interestingly enough, Stephen Smith (Co-founder of First National and bearer of the school's name) graduated from Queen's Engineering.
His $50m donation to the Queen's School of Business was the largest ever donation to a Canadian business school.
He's also a very nice, humble guy.
Jessica
Smith BCom
Grad & Youth
Coach™
Business School Comparisons
Before I start comparing schools, I have to preface by saying I've only actually attended Queen's Commerce.
However, I have dedicated the past fifteen years of my life understanding every aspect of the top schools in Canada.
I've worked with many of these schools through my former company, CampusRankings.
I've also kept in touch with the hundreds of students I've helped admit into these schools.
At the end of the day, these are my thoughts based on the information I have at hand.
But let me tell you this:
You need to make a decision that's best for YOUR NEEDS — and no one else's.
Queen's Commerce (Smith) vs. Western Ivey HBA
This is possibly the most frequently asked school comparison I am asked.
If Western offered a 4-year business degree, I would say their educational quality surpasses Smith.
Why? Because I believe in the case method of learning.
However, they offer 2 years of compressed business education (you get AEO status first and then start the HBA in the Years 3-4).
That's a very short time to digest everything, absorb the right information, and build lasting relationships.
This also means students can only get a business-related summer internship after third year.
Queen's offers four years of case- and lecture-based learning, while also offering international exchange in third year.
Queen's also has a better student society and overall student experience.
I'd say Ivey has slightly stronger international and cross-Canada reputation, piggybacking off their MBA program.
But overall, I have to give this honours to Queen's.
Program Guide
Western Ivey HBA (AEO): The Definitive Guide for Applicants (2023)
If you're applying to Western Ivey HBA (AEO), or you're simply interested in learning more about the program, this guide is… Read more
Queen's Commerce (Smith) vs. U of T (Rotman) Commerce
Rotman Commerce honestly doesn't get enough credit.
Being in Toronto, you'd have access to the best teachers and employers.
Classes sizes are also around the same size as Queen's after first year.
I'd even say their career services office is better than Queen's, as it offers focused programs that help you obtain careers in certain fields, e.g. management consulting.
However, having spoken regularly to Rotman Students, I noticed they miss an eagerness and passion I see from Smith Commerce students.
There's also a dire lack of student culture, which is hard to avoid at larger commuter schools, but necessary for a quality university experience.
The student body can make a huge difference for a b-school. It means more employers, more student clubs, and more competition in class.
If you're looking into accounting, Rotman might be a good option with their four-year Accounting Specialization.
If tuition is a concern and you need to live at home in the GTA area, go to Rotman.
Otherwise, Queen's takes the cake on this comparison.
Program Guide
University of Toronto Rotman Commerce: The Definitive Guide for Applicants (2023)
This guide is for you if you're thinking about applying to the Bachelor of Commerce (BCom) program at the University… Read more
Queen's Commerce (Smith) vs. McGill BCom (Desautels)
McGill has three distinct differences over Queen's.
First, it an incredibly diverse class:
39% come from Quebec
20% come from other Canadian provinces
41% come from international
Second, Desautels has the highest grade requirements out of any undergraduate Canadian business school (95%), but they don't look at anything beyond grades.
Third, it has a much, much stronger international reputation—perhaps better than any other Canadian school.
I recall my first day on international exchange in Hong Kong, I overheard a group of Ivy League American exchange students classify McGill as the "Harvard of the North".
I thought "what about Queen's?"
They had never heard of Queen's.
McGill's student culture is incredible and being based in Montreal is much more exciting than Kingston.
If you're looking to work in Montreal or internationally, I honestly believe McGill BCom is your best bet.
If your focus is Ontario, stick to Queen's Commerce.
Queen's Commerce (Smith) vs. York BBA (Schulich)
York and Queen's are two completely different schools.
Queen's is a res-life, tight-knit environment type school.
Whereas York is more of a metro, commuter school without much of a student culture.
Queen's will get students access to the most prestigious companies, such as Goldman and McKinsey, whereas I don't believe the accessibility is as strong for Schulich students.
Starting salaries and employment stats are noticeably lower.
If cost is a huge factor (and you live in the GTA), go to Schulich.
If you're sole goal is to become an accountant at a Big 4 or gain an above-average, entry-level business job, and you don't care much about (or can't afford) to get the 'true' university experience away from home, then simply go to Schulich.
It's still a great program and has very high, holistic admissions standards.
It's a very diverse class and it's MBA program has a great reputation you can piggyback off of.
Program Guide
York Schulich BBA: The Definitive Guide for Applicants (2023)
This guide is for you if you're applying to York Schulich BBA, or you are simply interested in learning more… Read more
Queen's Commerce vs. UBC BCom (Sauder)
This is a tough comparison because I'm a fan of both programs.
I love the fact that UBC BCom has co-op. That's probably the biggest advantage over Queen's.
If you appreciate the great outdoors and adventure activities, go to UBC.
If you want to work for unique west coast companies like Amazon, Lululemon, and EA Sports, go to UBC.
However, if you want to work on Wall / Bay Street or management consulting, I'd highly recommend going to Queen's.
UBC has their Portfolio Management Foundation (PMF) program within its BCom, which is quite prestigious and puts many people at the top banks.
However, the program selects 5-6 students out of a class of 1,000, which is totally ridiculous.
Also, UBC's average entrance salary is much lower than Queen's.
It's actually the lowest out of all the top BCom programs in Canada.
If weather, lifestyle, and co-op are important to you—and you don't mind a class size of 1,000 students—UBC might be a good option for you.
Otherwise, I'd recommend Queen's.
Program Guide
UBC Sauder School of Business BCom: A Definitive Guide for Applicants (2023)
This guide is for you if you're thinking about applying to the Bachelor of Commerce (BCom) program at the UBC… Read more
You've Got a Dedicated Coach in Your Corner
For over a decade, we have worked with thousands of students to help them achieve more than they ever thought possible.
Our coaches have a strong success rate supporting students as they apply to Queen's Commerce, among other top university programs.
Our 1-on-1 Youth Coaching fills that gap that most high schools miss. We can help you build self-awareness through probing questions and assessments, set bigger goals to elevate your extracurriculars and future career plans, and improve skills that matter on supplementary applications, such as interviewing, written communication, critical thinking, and creativity.
We use a coaching methodology, called 'full student' development, that's been proven to increase your chances of admission to top-tier universities and obtaining competitive jobs/internships.
So, what are you waiting for? Fulfill your post-secondary potential with the mentorship and coaching you've always wanted! 🙂
IMPORTANT: Want to share information and/or images from this resource on your own website, blog, article, etc.? Please ensure you reference content of any kind published by Youthfully Inc., in whole or in part, using the following statement: (1) Our Organization (Youthfully Inc.); (2) The title of our content/resource; and (3) the URL to our webpage where the content was originally posted. For example: "Sourced from: Youthfully Inc., 'Queen's Commerce: The Definitive Guide for Applicants (2022)', https://youthfully.ca/queens-commerce-guide/."

Not doing so is an infringement of copyright and is illegal. We spend significant time developing resources for students, so please take a few seconds to ensure they are referenced properly.

DISCLAIMER: While the information in this blog is considered to be true and correct at the date of publication, and although our team makes every attempt to ensure that the information is accurate and vetted by university staff, Youthfully is not in any way liable for the accuracy of any information printed and stored or in any way interpreted and used by a user.
---