Client Journey
Melody
After feeling confused about what she wanted her future to look like, Melody decided to work with a Youth Coach during her gap year between high school and university.

During this time, Melody accomplished a lot, including the CN Tower Climb for charity and a consulting project for Uber—which built her self-confidence, self-assurance, and conviction.

Melody launched a small business, called MXZ Hair & Makeup, which she expanded while studying Computer Science at Queen's University part-time.

Having learned how to efficiently manage her business's finances, scheduling, merchandising, etc. as a Computer Science student, Melody's business took off, and her work has been featured in major publications like Femme Magazine and Rebel Magazine. 

Melody hopes to use the lessons she learned with her coach and while starting her own small business to be an effective leader and retire early.
The Journey to Clarity, Confidence, and Conviction
Finding a balance between what you want and what others expect can be extremely difficult.
While every parent naturally wants the best for their child, sometimes their expectations can cause anxiety and uncertainty (even though this is definitely not their intention).
Melody was the same way. She always felt like her goals had to be aligned with what her parents wanted for her, and she was hesitant to figure out what she wanted out of life. Her parents' expectations came from a loving place and they simply wanted to do everything they could to help her be successful and land a good job after university. Melody decided to do everything she could to prepare for the successful future her parents wanted her to have, while also ensuring that it would be a path she actually wanted to take.
She connected with a Youth Coach when she was in Grade 12 because she sought an objective mentor who could help her explore her interests and create a plan of action to help her achieve her goals.
That's a big benefit to having a Youth Coach: students have someone who truly gets to know them and who they can open up to, outside the influence and expectations of others.
Before stepping into university, Melody wanted to experience the world and what it had to offer. She wanted to be confident and clear in her direction, before deciding upon where to attend and what to study. That's why she made the decision to take a gap year.
"The self-satisfaction you get knowing what you want out of life is incredible. You can't have people tell you what to do, you have to figure it out for yourself. And a good coach can do that."
A Year of Self-Discovery with Youthfully
During her gap year, Melody worked closely with her coach and other Youthfully students, who also decided to take a gap year. She took part in unique experiences that would help her build self-awareness, independence, and valuable real-world skills.
"School does a great job of imparting knowledge and teaching you how to memorize, but they miss out on helping students build important skills and character traits that last a lifetime and lead to true fulfillment."
During this year, she learned how to code and built a computer game; solved a Rubik's Cube in under a minute at a competition, with only three weeks to prepare; and climbed the CN Tower for charity, later also doing the CN Tower EdgeWalk.
She and a group of Youthfully students were also hired by Uber Toronto to complete a consulting project to help Uber source more drivers, more quickly. Melody and her team talked to drivers and passengers to see what they felt could be improved, they created a survey, and then they put all their findings and suggested strategy in a PowerPoint. They presented this idea to top executives at Uber (no pressure!) and their recommendations were later implemented by the organization.
While these activities might seem a bit unrelated, they actually changed Melody's outlook on life.
Through experiencing new things and stepping outside of her comfort zone, Melody was able to realize what she was truly capable of. She went from being a shy teenager uncertain about the future, to a self-empowered young woman with authenticity and gravitas.
Melody also applied and was accepted to Queen's University for Computer Science, a school where she felt the most comfortable and a program she was most naturally drawn to.
Confidently Starting a New Chapter
Melody had always been passionate about the beauty industry, and she had some experience doing hair and makeup for big events like proms and weddings. She had done some freelance work here and there, but she always wanted to take it to the next level.
"How can I find a way to explore the career I want," she wondered, "while also fulfilling the potential that my family knows I have? Is it possible to do both and make everyone happy?" After working with her Youth Coach, Melody now had the tools, drive, and determination to figure out how to do this.
While attending Queen's University program in the fall of that year, Melody started her own beauty company, MXZ Hair & Makeup. She won the Summer Company Program grant, which she used to create a business model and purchase products to get her company off the ground—all on her own.
While the grant gave her a financial head start at this early stage, the support she received from Youthfully helped her overcome the initial mental challenges and doubts she had. Like many others business founders, she was anxious, she doubted herself, and she struggled to make decisions in case things didn't go as planned.
"With the help of my Youth Coach, I realized that life is not a pre-organized series of next steps, and can't be perfectly planned out. Sometimes a decision had to be made where the outcome would be unclear, but every step forward is better than doing nothing from the fear. By building self-confidence and self-worth through my coaching experience, I was able to get through all the challenging times" 
Over the next couple years, Melody worked day and night to make her business a success. She hustled to book clients, hire artists, and get noticed in an incredibly competitive industry.
"If I hadn't connected with my Youth Coach," Melody recalls, "I wouldn't have been able to venture onto this new path and fight for what I wanted in life. This process helped me establish goals that have meaning beyond a dollar value. My coach was one of the most influential, life-changing person I've had in my life."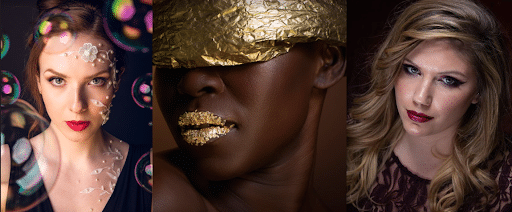 A Beautiful and Fulfilling Future 
It didn't take long for her company to get noticed and really start to take off, and she soon moved to Toronto to expand MXZ Hair & Makeup even further.
Her knowledge of Computer Science helped her grow her business because it made processes keeping track of scheduling, merchandising, and finances more efficient. These skills helped her successfully run and expand her business and really get noticed in this industry.
Soon after her move to Toronto, her looks were featured in various publications, like StyleCruze Magazine, Femme Magazine, and Rebel Magazine, and she started getting more commercial work.
She soon had more demand for her services than she could handle, she hired more makeup artists and expanded her services in Ontario.
"The one year with Youthfully is still one of the most memorable and life-changing years of my life, and I'm grateful to have done it. Youthfully was one of my first decisions that went against what I thought life was supposed to be like (graduate high school, go to university, get hired by a company, and then work a 9-5 job forever until 65 when I can retire). It was one of the best decisions I had ever made, and it gave me the confidence boost needed to go after what I really wanted, instead of what I was taught I was supposed to do."
So what's next for MXZ? Melody hopes to complete her Computer Science degree and continue doing what she loves to one day be published in Vogue, Elle Magazine, and more.
Melody's journey shows how important it is to go after the dreams you want and that anything is possible when you set your mind to it. For most people, it's hard to kick-start this process alone.
A dedicated, personal mentor can help, but over 65 percent of students either aren't fully satisfied with their mentor or they can't find one at all. Youthfully Youth Coaches, on the other hand, are high-quality, vetted mentors committed to seeing their students succeed—on their own terms.
Melody worked with her coach for only a year, and it helped establish a foundation for her to accomplish her hopes, dreams, and even early retirement.
"Running my business makes me a lot happier and I'm already on track to retire peacefully, which is the long-term goal."
Connect with a Youthfully coach and start your journey today!